What is the actual cost of your all-inclusive destination wedding?
So, you are getting married.  Congratulations!!!  We couldn't be happier for you and we know of all the work, time, and money you'll soon be putting into your wedding. 
Being conscious of costs for yourself and your guests can be a huge stressor for most couples. With that in mind, let's jump into the cost of an all-inclusive resort destination wedding. 
There are two things we need to know to tell if we are being charged (or double charged) for items that we shouldn't be shelling out for.  To start, we'll compare the wedding services offered and the services your hotel/resort stay offers. We'll also need to consider all the vendors and services that they offer, both on and off the resort.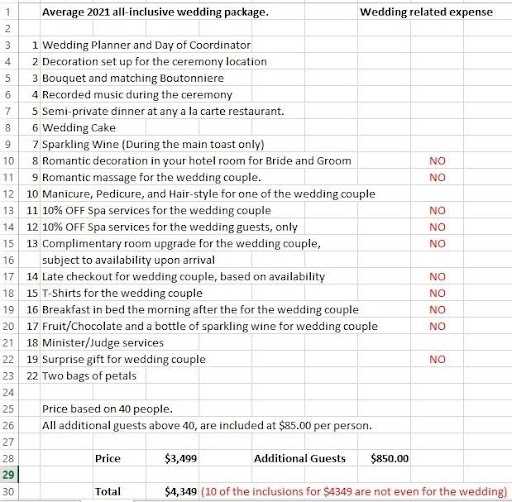 Let's work backwards here.  What are some standard basic services that are hired for almost every wedding?
Officiant 

Flowers

Music

Food

Alcohol or Beverages

Bartender

Service staff

Lighting

Décor

Cake/Desserts

Photographer

Hair and Makeup Artist
Most or all these services will be needed for your wedding, and each one is equally valuable to the day.  
At a private venue, you will have to pay for each of these services individually and you will be hiring locals that often charge less than the resort will charge you.
For a resort destination wedding, you will receive two different invoices. One will reflect your entire stay including any calls you made, food or beverages ordered to your room, and damage you may cause. The other invoice will reflect the all-inclusive wedding package cost: food, drinks, ceremony, music, etc.
Let's look at the following price breakdown of a typical wedding package from a randomly selected resort. This is essentially the same breakdown you will see with most resorts offering packaged destination weddings.
The first thing you will notice is that the offer is often balanced 50/50 with wedding-related items and non-wedding-related items. In the case below, you see that in paying $4349 for 20 items listed, 10 are not even related to your wedding. Why would they include the cost in an all-inclusive wedding package if you don't even want them?
Ideally, you could build your own package and include only the items you want. For instance, if you don't want 2 free, likely low-quality shirts advertising the name of the resort, you shouldn't have the cost of them lumped into your wedding invoice. Not to mention, after all that expense you are still getting a pre-packaged, cookie-cutter wedding. Whether you've chosen a beach wedding or a rooftop vista, a resort wedding will look exactly the same as the wedding held before yours and the one after, maybe even on the same day.
We know 50% of the all-inclusive destination wedding package we are buying consists of non-wedding items, so let's see what those same items would cost you in the exact same city and country, but without the extras. $2,970 is what your wedding package would cost if you were not paying for the resort wedding package. That is a great profit for the resorts.
The second thing we need to look at is your wedding vacation stay at the resort. What do you buy in the resort when you book a 7-day stay?
We'll stick with the same resort and destination for ease. I created a trip through expedia.com so I could get a price estimate. from Edmonton to Puerto Plata, staying at this all-inclusive resort for 7 days in May 2022. As shown below, the cost is roughly $2,000 per person and it includes all your food, including a set number of a la carts, domestic alcohol, outlined water sports, pool and beach access, etc.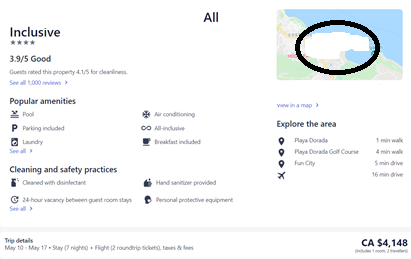 Since the cost from Edmonton Canada to Puerto Plate for 2 persons, for 7 days is roughly $2000 per person, shouldn't guests eat free at the wedding, if they have all paid for their "all-inclusive "stay? We would assume this means they should be eating and drinking for free at your wedding.  Why are you double charged for food on the day of the wedding?  And why are you paying for non-wedding related services in your resort or beach wedding package?
Now, before you get in as much of a twist as I have about this, remember that you also must pay an outside vendor fee if your best friend, who happens to be a photographer, comes to do your wedding photos.  These fees can be as high as $1000 per vendor.  YIKES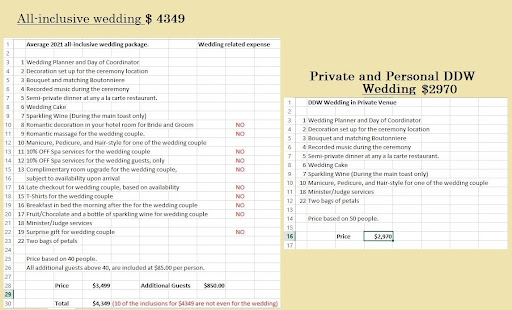 Example based on destination specific criteria and prices do fluctuate between destinations.
With an outside venue, you will have a rental fee, and you will have to find your own vendors, but the savings can be huge, and you will be only paying for what you want. If you have your heart set on a destination wedding, save that money and hire a local wedding planner (like Destination Dream Weddings)! A local wedding planner is the best way to have your wedding your way. The cost of a destination wedding shouldn't break the bank, but it should be unique to you.
Let's Plan Your Destination Dream Wedding Today!